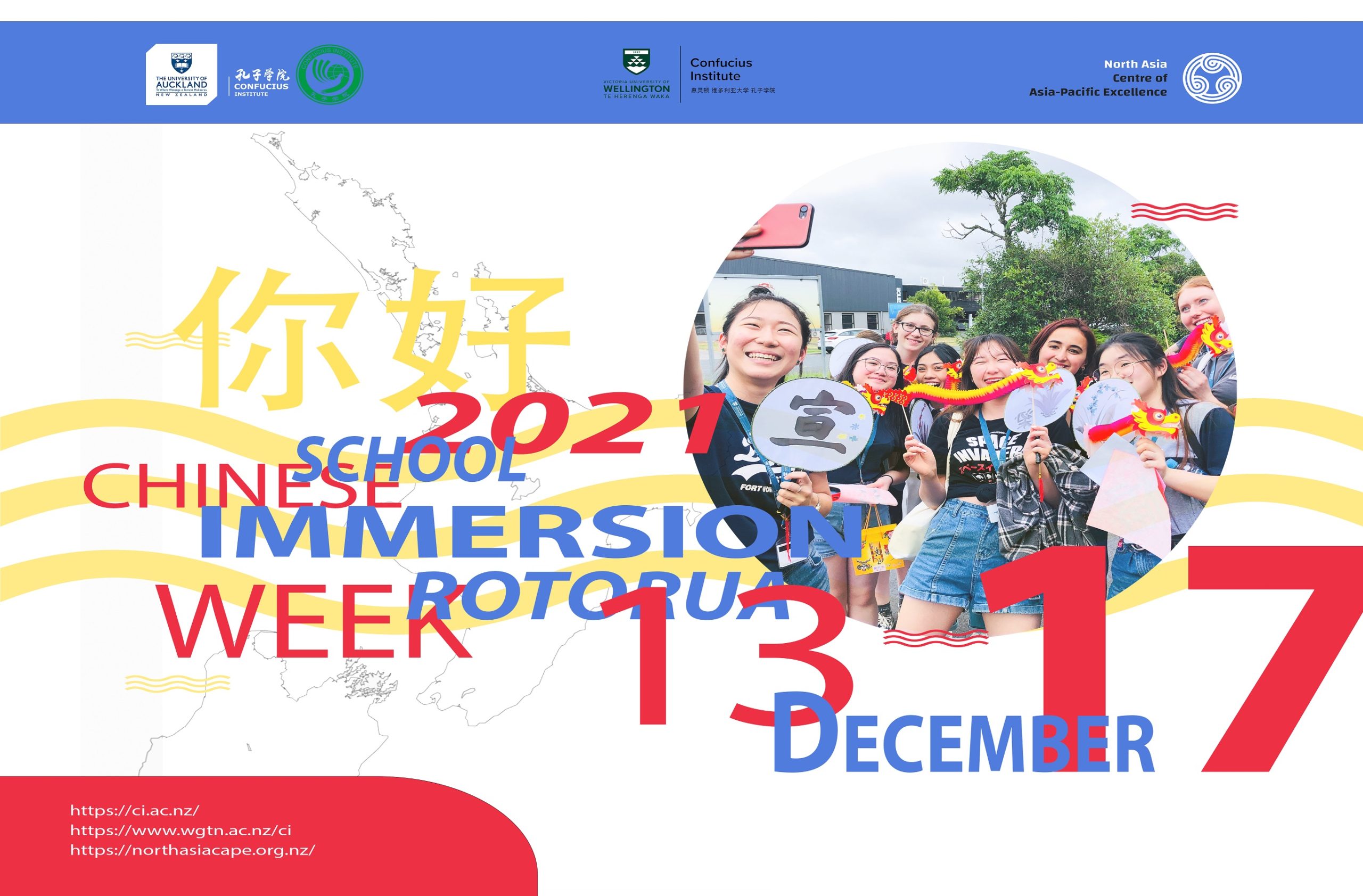 2021 Chinese Immersion Week
The border is still closed, but our learning will never stop.
This year, the Chinese Immersion Week (previously known as China Study Camp) will be jointly organized by the Confucius Institute in Auckland and the Confucius Institute at Victoria University in Wellington, in partnership with the North Asia Centre of Asia-Pacific Excellence. 
This week-long activity is for outstanding and deserving secondary school students of Chinese (from the schools in North Island of New Zealand only).
Dates: 13-17 December 2021
Venue: Rotorua
Aims:
Enhance Chinese language;
Experience Chinese culture through fun activities;
Explore study and career pathways;
Deepen understanding of the NZ-China relationship.
Eligibility:
Learner of Chinese at a local school* in Year 10-12;
At least 2-3 years of Chinese learning in local schools* by end of 2021;
Recommended by your current Chinese teacher in school;
Participated in Confucius Institute Chinese Competitions/examinations;
New Zealand citizen or permanent resident who is a non-native speaker of Chinese.
* Schools in North Island of New Zealand.
Programme Cost: 
Successful students are required to pay a registration fee of $100.
Accommodation, meals, activities and transport as part of the programme will be covered by the organisers.
Return travel from where you live to the camp venue will be covered by your regional Confucius Institute.
Personal expenses will be the responsibility of individuals.
Online Application:
(submitted by deadline 22 October 2021)
The selection panel's decision will be final. All the applicants will be informed by 1 November 2021.
For any further questions, please contact
Confucius Institute in Auckland at info@ci.ac.nz  or
Confucius Institute at Victoria University in Wellington at confucius-institute@vuw.ac.nz
Download the CIW flyer and poster
CIW Flyer
CIW Poster